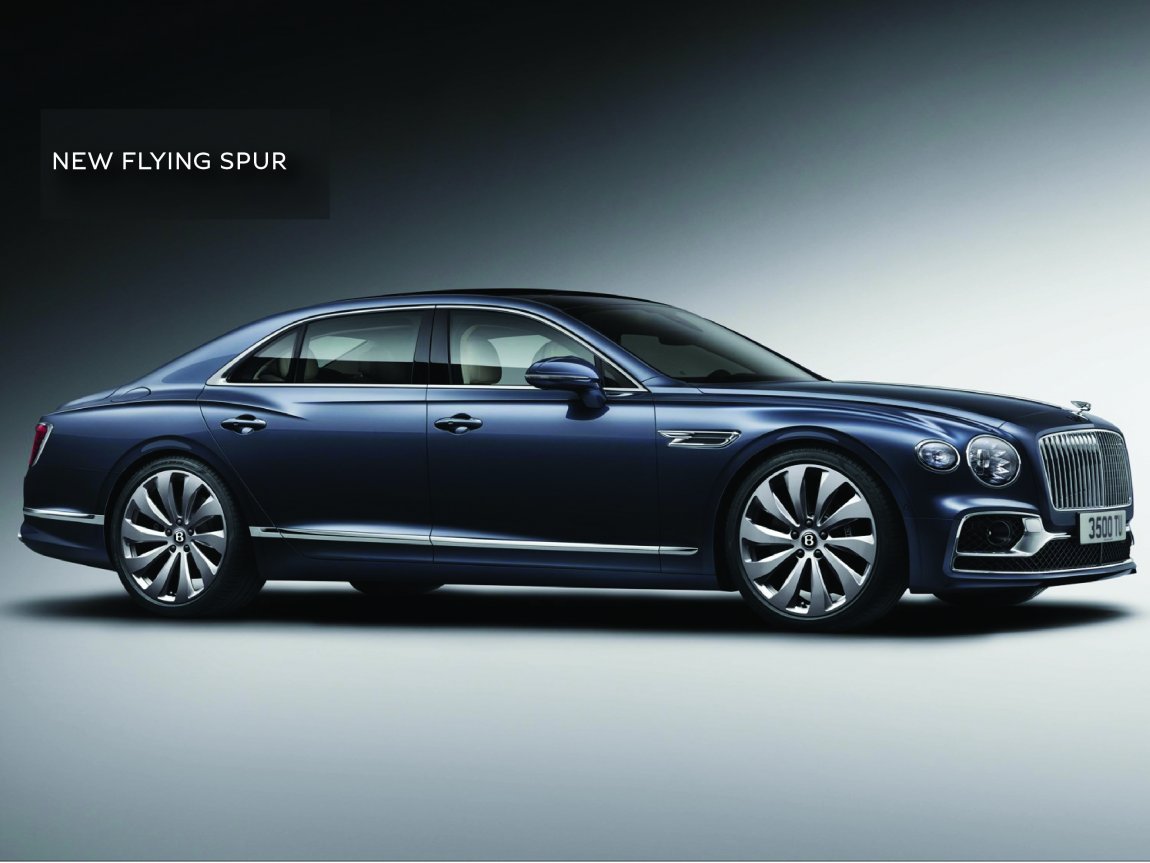 The Bentley Flying Spur is available with a choice of three engine configurations: Bentley's smooth, powerful 6.0 litre W12, the agile 4.0 litre V8 or the progressive new 2.9 litre V6, teamed with a 100 kW electric motor in the new Flying Spur Hybrid*.
The Flying Spur Mulliner, meanwhile, represents the pinnacle of Bentley luxury.
To learn more, contact your local Bentley dealer.
*Flying Spur Hybrid is available to order in most markets, but is currently not available in EU27, UK, Switzerland, Israel, Ukraine, Norway, Turkey and Vietnam.
EXPLORE THE FLYING SPUR
---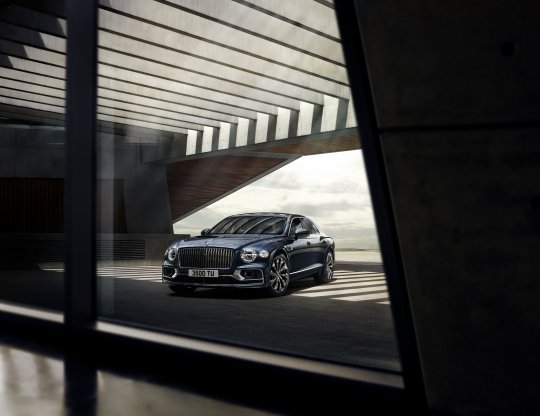 DESIGN
The Bentley Flying Spur is designed to command attention. Its sleek lines are created with superformed aluminium – including the largest superformed panel on any car, anywhere in the world. The resulting near-seamless surface can be considered a hallmark of Bentley exterior design.

At either side of the gleaming vertical vane grille, LED matrix headlamps sparkle like crystal-cut glasses, each one enhanced by a gleaming chrome sleeve. Crowning the grille, meanwhile, is the pièce de résistance: a striking 'Flying B' bonnet mascot. Always crafted from virgin stainless steel and hand-polished, it houses the innovative illuminating wings which light up in synchronicity with the headlamps.
You can now also protect your Flying Spur exterior from minor stone chips and scratches with the newly available Paint Protection Film, for more information contact your Bentley Retailer here.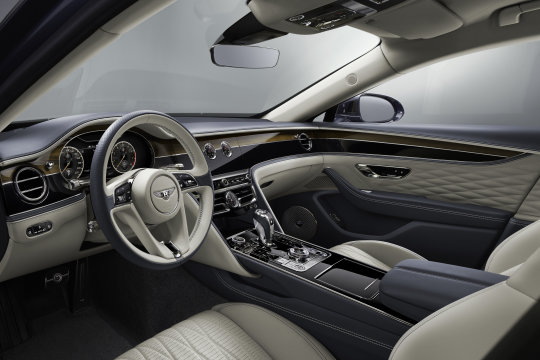 AN AWE-INSPIRING INTERIOR
Inside the car, a world of unrivalled luxury awaits. Stunning natural materials of wood and leather, crafted by hand to bring out their beauty, meet the glass and steel of 21st Century technology in a breathtaking example of automotive cabin design.

A wide centre console rises from the centre of the car and flows up into the dashboard – which in turn wraps seamlessly into the doors, creating a 'ring of wood' that adds to the sense of space and light. Everywhere you look, Bentley's renowned attention to detail is at play. The dashboard's centre vent is modelled on the Bentley 'B' design of the rear lamps – and it incorporates an eye-catching Bentley clock. Available in a polished or diamond knurled finish, it's a design echoed in the rear cabin's centre vents, giving the entire interior a truly harmonious feel.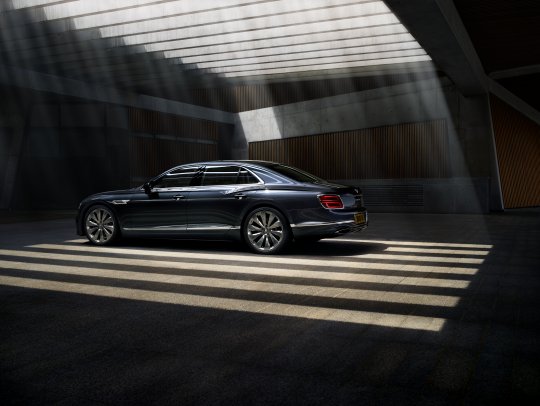 PERFORMANCE
The Flying Spur W12 is built on Bentley's hallmark 6.0 litre W12 engine. Delivering a sense of truly limitless acceleration, its phenomenal power can propel it to a top speed of 207 mph (333 km/h).

The Flying Spur V8 offers an exhilarating alternative, complete with the inimitable V8 exhaust note. Its racetrack-proven 4.0 litre engine is lighter than that of its W12 stablemate, aiding acceleration and handling, while it can reach a top speed of 198 mph (318 km/h).

For those seeking a more progressive option, there is the 2.9 litre V6 Flying Spur Hybrid, offering the capability for emission-free driving without compromising on the exhilarating power for which Bentley is famous.
The Flying Spur Mulliner represents the ultimate in Bentley luxury, in a car that can be commissioned with your choice of the above powertrains.*
*Availability depends on country of purchase. Please check with your Bentley dealer.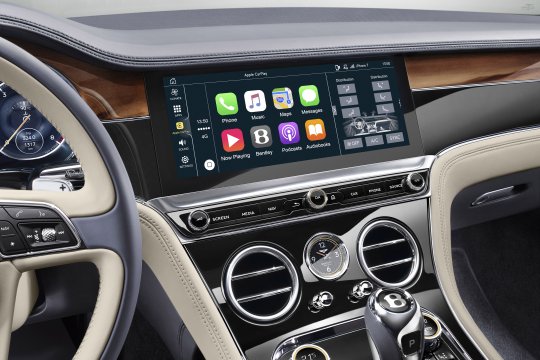 TECHNOLOGY
Thanks to a suite of connected digital technology, you can enjoy the seclusion of travelling in the ultimate luxury sedan, while remaining in constant touch with the outside world.
In the centre of the dash, a 12.3" HD touchscreen includes split-screen functionality, allowing you to change music without losing sight of the navigation, for example. Behind the front seats, meanwhile, the Touch Screen Remote is a wireless tablet that gives rear-seat passengers access to many interior functions, including controlling the infotainment system, adjusting ventilation and opening and closing the sunroof. It can even be used to store pre-set configurations for mood lighting.
For a truly immersive media experience, the optional Bentley Rear Entertainment system adds two high-definition 10.1" touchscreens to the rear of the cabin. Passengers can stream content straight from their personal device to the screens, using either the car's in-built Wi-Fi or their own mobile hotspot. An HDMI port also allows devices such as game consoles to be connected, while Bluetooth and an auxiliary jack allow you to connect both wired and wireless headphones to the system. Alternatively, for a full immersive experience, the audio can be played through the car's impressive sound system.
STAY CONNECTED
Technology accessible through the infotainment system includes Apple CarPlay® and photorealistic landscapes through Satellite maps. Realtime Traffic Information and Swarm Technology combine to give advance warning of changing road or traffic conditions and local hazard information.

You can also access driving range, engine diagnostics and even lock and unlock your car remotely, with the My Bentley smartphone app. It's all designed to provide convenience and assurance about your car and the journey ahead.
Apple CarPlay® is a registered trademark of Apple Inc.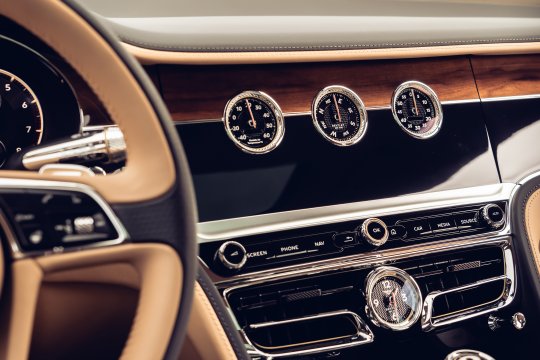 BENTLEY ROTATING DISPLAY
Journeys are made all the more extraordinary through innovations such as the optional Bentley Rotating Display. Hidden beneath a beautifully veneered fascia, it rotates when you start the car to reveal an advanced digital display featuring apps, media and vehicle information. A further rotation reveals three classic analogue dials with jewel-like chrome bezels. So you can switch on when you need to and switch off when you want.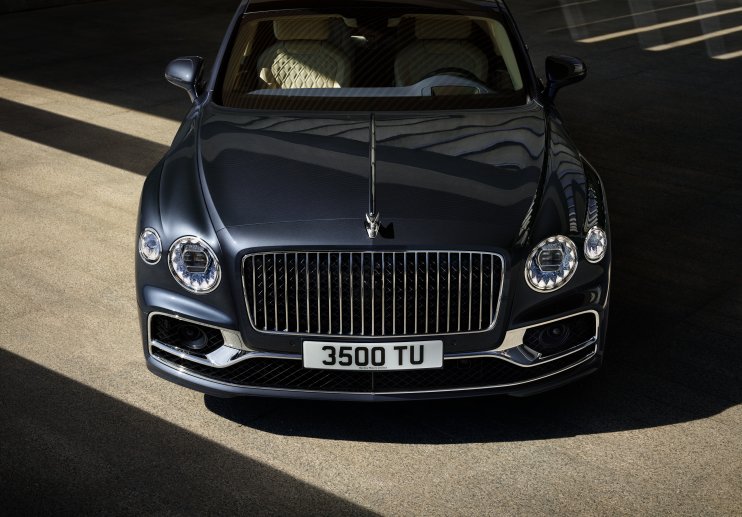 PERSONALIZATION
Make your Flying Spur truly your own by selecting one of our seven standard paint colours – or choose from the extended or Mulliner paint ranges, Two visually striking options have been designed to enhance its contemporary style: Blackline Specification replaces most of the exterior chrome elements with a gloss black finish, while the Carbon Fibre Body Kit creates a bold and assertive look. Visit our configurator to explore more finishing touches and how you can create your bespoke car.
CHOOSE YOUR FLYING SPUR
Each of the Flying Spur model offers a range of distinctive design features and is available with a choice of engines and features
FLYING SPUR MULLINER
The Flying Spur Mulliner represents the pinnacle of Bentley luxury. In pushing automotive craftsmanship to exquisite new limits, Mulliner has set a new standard for comfort and style on the road. Whether you prefer to drive your car yourself or be driven by a chauffeur, the Flying Spur Mulliner can be considered the ultimate luxury sedan.

To discover more, contact us.
FLYING SPUR HYBRID
Prepare to take another stunning step on the journey towards an electric Bentley future. The new Flying Spur Hybrid showcases Bentley's ability to combine sustainable design with exquisite craftsmanship and truly effortless performance. Exhilarating, refined and crafted for the world we live in today – consider this the new standard for luxury hybrid cars.

To discover more, contact us.
*Flying Spur Hybrid is available to order in most markets, but is currently not available in EU27, UK, Switzerland, Israel, Ukraine, Norway, Turkey and Vietnam.
TECHNICAL DETAILS
---
FLYING SPUR SPECIFICATIONS
| PERFORMANCE MEASURES | W12 FIGURES | V8 FIGURES |
| --- | --- | --- |
| ENGINE | 6.0 litre twin turbo-charged W12 engine | 4.0-litre, twin-turbocharged V8 engine |
| MAX POWER | 626 bhp / 635 PS / 467 kW @ 6000 rpm | 542 bhp / 550 PS / 404 kW @ 6000 rpm |
| MAX TORQUE | 664 lb-ft / 900 Nm @ 1500-5000 rpm | 568 lb-ft / 770 Nm @ 2000-4500 rpm |
| ENGINE CAPACITY | 5950 cc | 3996 cc |
| FUEL TYPE | Petrol (RON 95) | Petrol (RON 95) |
| ACCELERATION | 0 - 60 mph 3.7 seconds, 0 - 100 km/h 3.8 seconds | 0 - 60 mph 4.0 seconds, 0 - 100 km/h 4.1 seconds |
| MAX SPEED | 207 mph / 333 km/h | 198 mph / 318 km/h |
*Features not available in all markets